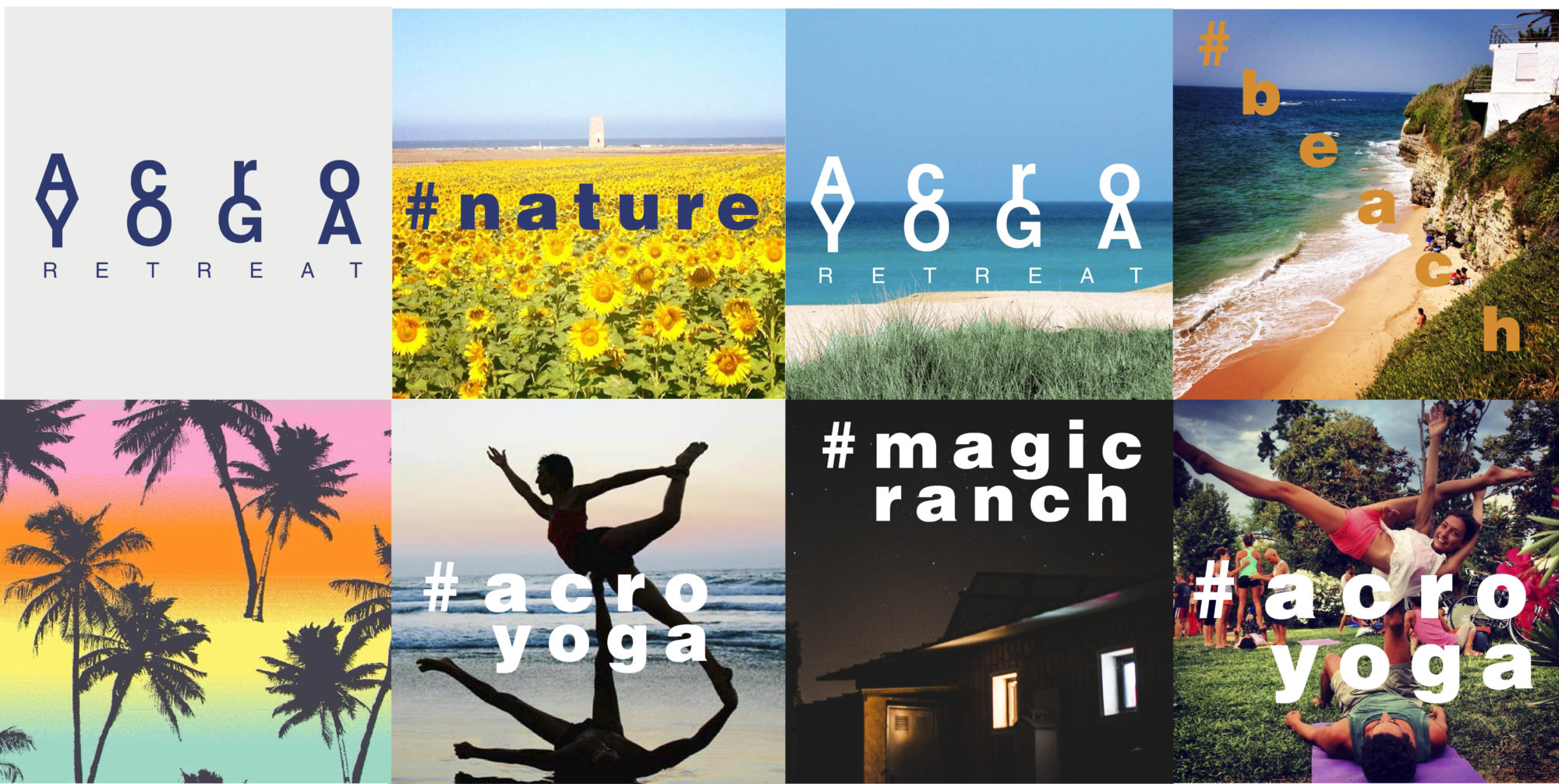 Details & Reservations
All ready for the Retreat
THE EVENT
We have the pleasure to invite you to The Magic Ranch, El Palmar and participate in our AcroYoga retreat, which takes place in a peaceful and abundant setting right by the Atlantic Ocean in El Palmar, Cadiz/ Coast of the Light, Andalusia. The Retreat will take place during the first week of in September 2017.
THE PLACE
Spacious woodcabins/luxurious double rooms in a natural paradise by the shore with private bathrooms. Sustainable property with solar energy, organic vegetable garden and various inside/outside areas for relaxing and privacy. Outside YogaRoof with Trapeze with ocean view.
RECEIVE
Tone and tune your body with acrobatic yoga exercises, inner joy, mindfulness, healing relaxation and conscious meals during 5 days of complete immersion & deep connection with your core and soul.
Enjoy the expansive energy of this retreat to flow with the four elements : Earth Water Fire Air.
By tuning in with these elements you can heal yourself & create your own reality.
Feed your body, soul and spirit with these ingredients: Hatha – Vinyasa Yoga, Thai Massage, AcroYoga, DanceContact, Meditation and Reiki. (Surf lessons can be booked separately.)
Live sound experience with instruments & mantra singing & an amazing collection of music styles. Discover new facets and fragrances of your life and self-perception during this abundance of manifestation.
NOURISH
Our swiss chef (and neighbour) Dominic will treat you with delicious vegetarian meals and homemade smoothies from our eco vegetable garden. Soon we will post some of his beautiful creations.
RELAX AND TRUST
In this retreat you will:
– Learn in a safe, supportive environment
– Receive guidance from a highly experienced and passionate teacher
– Expand and refine your understanding of the practice
– Learn tools for honest and compassionate communication
– Learn how to use relationships as a mirror for self-reflection and transformation
– Release perceived limitations and explore your highest potential
– Celebrate the joy of play – Get in touch with your inner strength, determination and thoughtfulness
This Retreat is ideal for beginners new to the practice as well as intermediate and experienced Acro yogis. The skills learned are valuable for yoga teachers, masseuses, gymnasts, dancers, circus performers and physical therapists alike.
EXAMPLE DAILY SCHEDULE:
• 07:30 AM – 09:00 AM – Yoga/Reiki/Meditation
• 09:00 AM – 10:00 AM – Organic Breakfast
• 10:00 AM – 01:00 PM – AcroYoga Solar Or Lunar Session
• 01:00 PM – 04:00 PM – Lunch & Break (optional Surf Classes)
• 04:00 PM – 07:00 PM – Thai Massage/Mindfulness/Walks
• 07:00 PM – 08:30 PM – Delicious organic Dinner
• 08:30 PM – 09:30 PM – Night gathering/Activity
PRICES

5 Days:  4-8 September 2017
800€ – Standard Price

700 € – EARLY BIRD (If booked before 18.08.17)
And we also have added for the couples thinking about coming together the Special Couples Offer 

1200 € – SPECIAL COUPLES

 -Deposit nonrefundable 500€ to secure your space, Full payment by End of August.
PRICE INCLUDES
• nights in double shared room (contact us for single room option)
• 5 days Full board vegetarian delicious buffet (Breakfast, Lunch, Dinner)
• All classes & practices
Price Does Not Include: Flights, Transportation, Insurance and Visas + all extras during the retreat.
REGISTRATION
You will receive instructions on how to complete payment once we receive your deposit and email confirmation.
Contact: acrocontact@yahoo.com
FOR MORE DETAILS
1. Events:
2. Videos on YouTube: https://www.youtube.com/watch?v=VoNAlsd4taA https://www.facebook.com/zidhane.mehdi/posts/10154508948163552
3. Still have questions? Ask us anything at acrocontact@yahoo.com
4. Place: www.magicranchelpalmar.com
Contact: ilikemystylenika@gmail.com
FACILITATOR
ABOUT MEHDI ZIDHANE
Mehdi Zidhane is a healer, poet, performer and eternal traveler inspired by all his destinations.
He was a salsa, contemporary and hip hop dancer before he dived into a personal quest opening his horizons to practices such as yoga, martial arts, circus, theatre, poetry, singing, intuitive healing touch, tantra and tarot.
His teaching and performing experience with AcroContact while traveling over the world, has given him a deep and solid understanding of the essence of our being and our existence in the Universe, in harmony with our innner and outside world.
His goal is to guide his students into an exploration towards unity and infinite passion.
HOST
Nika will be your host at the Magic Ranch, el Palmar.
She is a german american travel journalist, script writer and creative/ film/ director and has worked in the international advertising and film industry for more than 20 years. Having lived in Andalusia for 10 years now, her deep adoration for the Cadiz Coast of the Light Cadiz made her manifest this sustainable paradise next to the Atlantic shore. She created the Magic ranch, which is inspired by Californian architecture, as an inspiring place for mindful groups to share, get inspired, enhance health, find some magic and follow Joy.